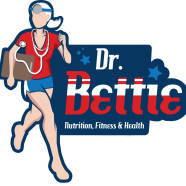 Welcome to Dr. Bettie's Corner, your local expert in nutrition, fitness, and health!  This is a bimonthly forum where we attempt to address Woman-focused topics of interest.  

We welcome your suggestions & questions!  Please contact us with yours. 

THIS WEEK'S TOPIC:
Your Diet & Your Heart: Five Ways to Avoid Needing a Cardiologist
Let me first start this article by stating that I am certainly not opposed to seeing anyone in my clinic, despite the title.  And I am in full support of routine doctor's appointments that include preventive health.  However, as a Cardiologist and Nutritionist, I embrace the opportunity to assist others in taking charge of their own wellness.  In the spirit of getting you started in this direction, I would like to share a few easy tips that I have accumulated over my years of research and clinical experience.
Do not focus on "fat" or "carbs" or "protein"…  Focus on real food.  
These nutrient obsessions come and go.  They are fun to study.  They give scientists something to do (imagine how difficult it is to study dietary patterns rather than nutrients).  Personally, I just love the Omega-3 kick.  But this kind of focus is the wrong way to go about creating a healthy lifestyle for yourself, and I have seen nothing but marketing of over-processed food with inflated claims of wellness, beauty, and disease prevention as a result.  Need more direction?  Google resources for a "Mediterranean Diet" and start from there.
Fresh, fresh, fresh.  
I am going to steal a line from one of my favorite local Cardiothoracic Surgeons: "If you catch it, shoot it, or pick it… It probably is a good choice."  Though he may have spent too much time in Alaska, I think this is a simple message with accurate direction.  I might also add: "If you can't grow it yourself, pick a CSA."  (And if you don't know what that is, ask your neighbors.)
Don't forget the polyphenols (woo-hoo!).
Okay, I said earlier that you should focus on food and not nutrients…  And you can't exactly catch, shoot or pick coffee, dark chocolate, red wine,  green tea and the like.  But these are still good things, and I have seen nothing but positive results including benefits on blood sugar levels and improvement of blood vessel function.  Don't worry, you don't need to remember what this class of (micro)nutrients is called… And ya gotta live a little, anyway.
Foods to NEVER eat?  
Yeah, sure, there are foods out there that your vasculature never needs to meet.  But, seriously, you don't need me to tell you that.
Stay active & make a plan.  
It's amazing how this works, but when you get yourself outside and moving, you tend to feel better and make better choices.  And don't make it hard on yourself; have your easy, healthy snacks available to you during the week (e.g. bowls of dry-roasted almonds, fresh juicy grapes, mozzarella cheese sticks, seasonal garden veggies washed & portable).
This column is for informational purposes only.  Use of this column is not intended to delay, replace or substitute for any professional advice, treatment or diagnosis.  If you have specific concerns, you should consult with an appropriately trained and qualified specialist who can address your particular situation.