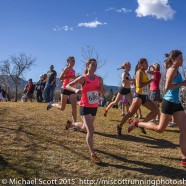 The weekend proved successful for the Boise Betties in their national debut.  Erica Richardson, Jordan Rehfeld, Gabby Reeves, and Gretchen Hurlbutt represented Boise's newest team with strong pack running in spite of the heat and altitude.  The women finished the race to finish 3rd in the team division!
The unseasonably 72* warm weather came on after nearly 2 feet of snow fell in the week leading up to the race.  The course had puddles of standing water and a few muddy spots, but nothing too sloppy.  True to cross country, the 2 kilometer course hosted a few rolling hills, sharp turns and soft grass.  The most challenging part was the dry creek bed- a dip in the course where a slight mis-judgement of ideal foot placement could send a jarring halt of momentum to your body.  With 4 laps in the Women's Open race, the dry creek bed became mentally tiring as well as physically challenging.  Of course altitude was the greatest, though predictable, challenge of the day.
When the Boise Betties were announced as placing 3rd in the team division, the name turned heads.  In talking with others after the race, many admitted to turning to see who the women were representing such a non-traditionally named team.  Even Alan Culpepper, in giving out the awards, seemed amused by the Betties.  Silly names are not the norm, but then most teams probably didn't have as much fun as we did either!
Off the course, the gals had fun in Boulder.  Great food, a sneak preview of McFarland USA (opening nationwide on Feb 20), and an after party hosted by Sara & Steve Slattery, Brooks Running and Elliptigo all rounded out a gorgeous weekend in the Colorado mountains.